Parent
Single Page View
Outline
---
The sign reads
---
"Welcome all new travellers.
To continue you must go through a series of doors.
After going through you will pick a costume. You will then become a half- human and half that creature.
After a week(100 mins a hour,20 hrs a day,10 days a week) has passed you may morph and get another costume. To start of with you will only be able to become 40% human to 60% human.
If you put on a costume you will then become that creature, be teleported to it's home town and have to wait a week before being able to morph.
After 50 costumes you may change into one of your other costumes and become 30% to 70% human. When changing costumes you must wait at least an hour before you can change costumes again.
100 different species/gender costumes allows you to gender-morph and become 20% to 80% human
200 different species costumes allows you to combine costumes and become 10% to 90% human
400 different species costumes allows you to return to your world with no more morphing
And 800 different species costumes makes a polymorph and allows you to morph outside of this world.
Also if you have a costume like a centaur then the human part will always be human and is counted towards the human percentage.
Any gender/species transformation magic of yours can only change your gender(if you have at least 100 costumes) and the animal part to a different animal.
When you change into a different costume (that you already have) you may teleport to that species home town but you will have the week penalty where you have no costume changes.
If you die while wearing a costume you will be reborn at the local inn (or appropriate location ). If you have more then 100 costumes you will lose the costume you had when you died and go to an appropriate place for your next costume.
If you fail to make it out in 100 years(100 weeks in a year) one of your possible forms will be chosen and you will be permanently stuck in that form(apart from magic) until you die. Also there will be no possibility of going back to your world.
Also, one final note: should you take a female form and become pregnant, you won't be able to change your gender until the child is born, though the other aspects of your form may change (the child will change to match.) That is all, and good luck!
---
You realise that you have to do what the sign said to do and go through the doors and grab a costume.
---
Alternatively you could use the key system to determine the room
---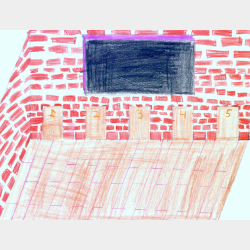 Illustrated by
catprog
---
Written by Catprog on 11 February 2004
---
You go through the door.
All of a sudden it slams shut and with no handle on this side it appears that you are stuck.
There are two more doors however and both of them have a sign on them saying
---
Costume room for
Element: Land
Type: Normal
Gender: ????
---
So which door do you want
---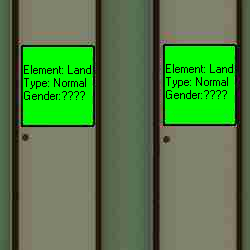 Illustrated by
catprog
---
Written by Catprog on 26 February 2004
---
You go through the door.
All of a sudden it slams shut and with no handle on this side it appears that you are stuck.<P/>There are five costumes in this room, all of them female, all of them are normal land creatures.
Snake
<li><span class="female">Wolf</span></li>
---
Written by Catprog on 26 February 2004
---
You find a Vixen costume. You then read the instructions on the costume for how to put it on and you strip so it will fit properly. You start by slowly sinking your legs into the costumes having to make a slight effort to begin with to fill the slender egs.
Finally you get it put on up to your waist and slip your arms down into it as well. You pull the zipper up on the front and sigh a little the costumes chest feeling a little tight.
Finally you bring the hood up over your face and start to adjust it so you can see out the eye holes.
As you adjust the mask you start to feel a tingling sensation washing all down the front and back of your body.
You stare in surprise as the chest seems to swell and gain weight, though the tight feeling vanishes as the breasts grow to a large size. You reach a hand to touch the now heavy orbs and can't help but gasp as you feel the pressure of your fingers on the sensitive flesh of your breast.
The tingle washes over your groin now and a pleasure shoots up through your spin causing you tail to swish about with life.
You realise you are no longer wearing a costume, you are a Vixen.
---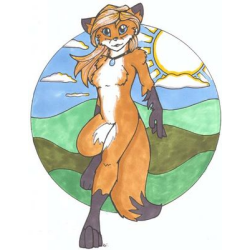 Illustrated by
Kat Vixen
---
Written by on 05 August 2005
And Then...
---
As you stand there and stare in confused awe at your new body, the world seems to blur around you, leaving you in a muddle of gray blurs. Waves of energy twist themselves around your body and fade away into strips of cloth.
When they have finished, you find you are now clothed in a simple cloth shirt and knee-length skirt. The shirt is white and the skirt is black, and the fabric is somewhat coarse compared to what you are used to. You haven't been clothed with underwear of any kind.
Reaching a tentative, curious hand up to your new breasts, you find that they support themselves just fine without the aid of a brassiere thanks to a layer of muscle just under the skin, and you guess that you aren't wearing any undershorts because they would be a pain to get over your tail. Still, it's disconcerting to have your privates left uncovered except for a skirt (notoriously vulnerable to light breezes) and to have only one layer between the rest of the world and the new features of your chest that you hope people won't pay attention to.
While you are contemplating this, the grayness starts to come back into focus, resolving into a picturesque hilltop overlooking a small village that might have come from the late 1920s back on your Earth. You realize with a start that part of the costume deal involved spending a week in your new form, in its native environment. Whether you like it or not, you're going to get a crash course in living as an anthropomorphic vixen. You wonder whether you'll be given a place to stay during your week. Living as a vixen is bad enough; you'd hate to have to be homeless while you're doing so.
---
Written by nothingsp on 25 July 2006
---
Your New Home
---
---