Parent
Story So Far
Outline
vampire???
---
You've always been a creature of darkness. Why not change into a bat? Heck your stuck in this room anyway might as well change into something strange.
You grab the costume and wonder how exactly you are going to change and begin to pull it on. The changes are immediate.
You suddenly feel like a whole new you.
Standing at a whooping 3 feet tall with an impressive 4 foot wingspan you are a fairly large bat.
However this was not what you were expecting. not at all. For some reason you half expected to be able to turn into a vampire bat but no your an over sized male african fruit bat.
---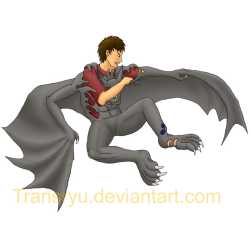 Illustrated by
transryu
---
Written by Razortail on 20 September 2005
---
You Are Taken to the Homeworld, and Yea It Is Unus
---
---