Story So Far
Outline
You are standing by a tree
---
There are 3 paths.
One appears to go to a jungle,
one appears to go to a cave,
one appears to go to a beach,
you could try and climb the tree,
there is a nearby shop you could go in,
or you could do something else.
So what's its going to be?
---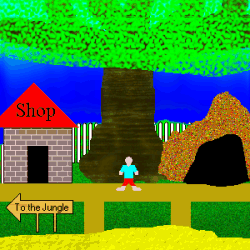 Illustrated by
Catprog
---
Written by catprog on 01 April 2003
---

Walk towards the jungle

Walk towards the cave

Walk towards the beach

Climb the tree

Go into the nearby shop

Sit under the tree

You jump a nearby white picket fence.

Go Home

Kristine
---
---