Parent
Story So Far
Outline
shocking!
---
You see a mainly yellow costume and you decide trying it on. As you put it on at first if feels just like a costume. However soon an immense itching starts underneath and you take off the costume as quick as possible.
Your body starts growing yellow fur all over and you feel your ears go to the top of your head and grow long.
You remember seeing that this was the female room, and sure enough, your manhood sucks into your body as female parts take there place.
Conveniently, there is a mirror in the corner of the room, and out of curiosity you look into it. You see a female half human, half pikachu creature looking back at you.
---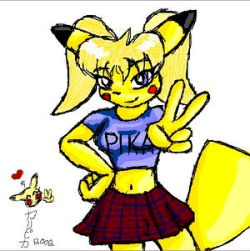 Illustrated by
carriepika
---
Written by phjett on 09 March 2005
---

Examine your body and powers

And Lo, Thou Art Transported
---
---