Parent
Story So Far
Outline
Wolf
---
You find a costume of what looks like an anthro-wolf, as well as instructions. Follow them, you strip off your clothes and find the opening in the front of the costume. You put your legs into the costume, and pull it up over the rest of your body, zipping it up.
The last thing left is the head, which you flip over your own.
Suddenly, you feel odd, and noticed the zip has disappeared. You begin to wonder this as you feet change ,painfully, now fitting the odd wolfen stance of the costume. The changes progress, upwards, as you feel the costume meld with you.
You suddenly remember this was the female room, as you notice a void between your legs and your waist painfully shrinks upwards, pushing your his and ass out.
You suddenly notice a weight on your chest as well, as two (very) large breasts force their way out. As you feel them with your changed hands, you face changes to, pushing out and melding with the wolfen head of the costume.
The changes subside, leaving you as a rather sexy looking anthro-wolf.
---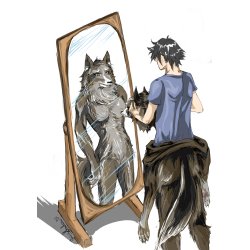 Illustrated by
shiningshadow
---
Written by Vanghar on 11 January 2007
---

Forest

Cave

Your shared apartment

Somewhere else
---
---