Parent
Story So Far
Outline
Become A Cat
---
You pick the cat costume and slip it on. The costume cloth sinks into your skin and merges with it, and you are half-cat and half-human. <spanFullTF> Meaning that you are a human-sized, biped cat of approximately humanoid proportions, covered in light calico fur. As the fur ripples over your body, it pokes through your clothing and seems to absorb it, leaving you naked except for your fur.
Since the costume was female, you anticipate what comes next, but it's still a shock for you. There is a pulling sensation in your groin, and you look down just in time to watch the new organs form. As you are looking down, you notice the flesh under your nipples expanding, until you have two perfectly formed breasts. The final changes take place as your hips expand and your smooth brown hair grows down to shoulder length. Finally, it's done, and you are a beautiful cat-girl.
</spanFullTF>
---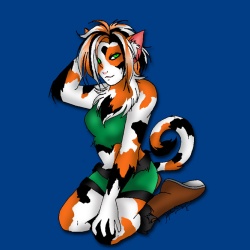 Illustrated by
angelkatie
---
Written by nothingsp on 28 December 2004
---

But we're not quite done...

Space Cats

City
---
---