Parent
Single Page View
Outline
---
There are 3 paths.
One appears to go to a jungle,
one appears to go to a cave,
one appears to go to a beach,
you could try and climb the tree,
there is a nearby shop you could go in,
or you could do something else.
So what's its going to be?
---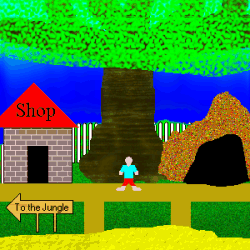 Illustrated by
Catprog
---
Written by catprog on 01 April 2003
In the shop
---
There is a table with a sign saying
---
<strong>Free Sample:</strong>
Take one
---
On the table there is a fridge with a range of liquids. Also on the table are various magical trinkets including costumes. What would you like to take, or would you like to buy something?
---
Written by catprog on 10 April 2003
---

Fridge

Into the shop

Costumes

Scrolls

Other

A horn

Rubber Brush

Headbands

Vials of Liquid

Transformation candy
---
---