Parent
Story So Far
Outline
Lugia
---
As you approach a costume you start to change. You grow breasts and your groin changes . You realise you are now female. You look at the costume, as you do so all the other costumes disappear. Looking closer you realise it is a lugia
You approach a costume, as you do so all the other costumes disappear. Looking closer you realise it is a lugia
You change into the costume and then the changes begin.
The features take root in your body and you feel the wind rustle through them.
You feel your new tail forming including the spikes.
With a throbbing ache, you feel your head squeezed like putty into a new shape, your eyesight subtly changing into what you presume is that of your new species. Then, with a feeling not unlike giving blood from every spot on your arms at once, your wings are born.
Then the changes stop leaving you a
female
humanoid lugia of approximately human proportions.
---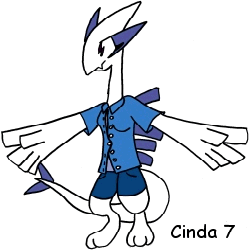 Illustrated by
cinda7
---
Written by on 01 May 2005
---

To the Hometown, Then!
---
---