Parent
Story So Far
Outline
Vixen
---
You find a Vixen costume. You then read the instructions on the costume for how to put it on and you strip so it will fit properly. You start by slowly sinking your legs into the costumes having to make a slight effort to begin with to fill the slender egs.
Finally you get it put on up to your waist and slip your arms down into it as well. You pull the zipper up on the front and sigh a little the costumes chest feeling a little tight.
Finally you bring the hood up over your face and start to adjust it so you can see out the eye holes.
As you adjust the mask you start to feel a tingling sensation washing all down the front and back of your body.
You stare in surprise as the chest seems to swell and gain weight, though the tight feeling vanishes as the breasts grow to a large size. You reach a hand to touch the now heavy orbs and can't help but gasp as you feel the pressure of your fingers on the sensitive flesh of your breast.
The tingle washes over your groin now and a pleasure shoots up through your spin causing you tail to swish about with life.
You realise you are no longer wearing a costume, you are a Vixen.
---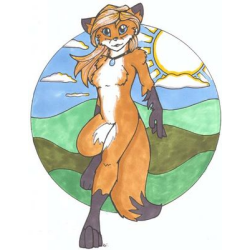 Illustrated by
Kat Vixen
---
Written by on 05 August 2005
---
And Then...
---
---