Parent
Single Page View
Outline
---
The sign reads
---
"Welcome all new travellers.
To continue you must go through a series of doors.
After going through you will pick a costume. You will then become a half- human and half that creature.
After a week(100 mins a hour,20 hrs a day,10 days a week) has passed you may morph and get another costume. To start of with you will only be able to become 40% human to 60% human.
If you put on a costume you will then become that creature, be teleported to it's home town and have to wait a week before being able to morph.
After 50 costumes you may change into one of your other costumes and become 30% to 70% human. When changing costumes you must wait at least an hour before you can change costumes again.
100 different species/gender costumes allows you to gender-morph and become 20% to 80% human
200 different species costumes allows you to combine costumes and become 10% to 90% human
400 different species costumes allows you to return to your world with no more morphing
And 800 different species costumes makes a polymorph and allows you to morph outside of this world.
Also if you have a costume like a centaur then the human part will always be human and is counted towards the human percentage.
Any gender/species transformation magic of yours can only change your gender(if you have at least 100 costumes) and the animal part to a different animal.
When you change into a different costume (that you already have) you may teleport to that species home town but you will have the week penalty where you have no costume changes.
If you die while wearing a costume you will be reborn at the local inn (or appropriate location ). If you have more then 100 costumes you will lose the costume you had when you died and go to an appropriate place for your next costume.
If you fail to make it out in 100 years(100 weeks in a year) one of your possible forms will be chosen and you will be permanently stuck in that form(apart from magic) until you die. Also there will be no possibility of going back to your world.
Also, one final note: should you take a female form and become pregnant, you won't be able to change your gender until the child is born, though the other aspects of your form may change (the child will change to match.) That is all, and good luck!
---
You realise that you have to do what the sign said to do and go through the doors and grab a costume.
---
Alternatively you could use the key system to determine the room
---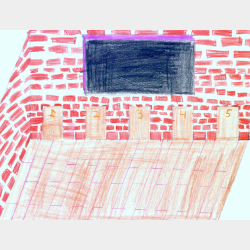 Illustrated by
catprog
---
Written by Catprog on 11 February 2004
---
You go through the door.
All of a sudden it slams shut and with no handle on this side it appears that you are stuck.
There are two more doors however and both of them have a sign on them saying
---
Costume room for
Element: Land
Type: Normal
Gender: ????
---
So which door do you want
---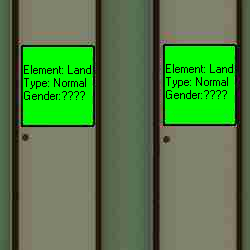 Illustrated by
catprog
---
Written by Catprog on 26 February 2004
---
You go through the door.
All of a sudden it slams shut and with no handle on this side it appears that you are stuck.
There are five costumes in this room, all of them male, all of them are normal land creatures.
<small><suggestions><ul>
Rhino
</ul></suggestions></small>
---
Written by Catprog on 26 February 2004
---
You eye the pale skins up and down. Your eyes light up as they have promptly decided on their newest match. "I think I'll go with this one" you mutter to yourself, running your fingertips down the length of the slender fluffy set in sleeves.
When you find yourself in safety you barrel past the threshold, nearly breaking the door from his hinges. You spin around after neatly placing the folded up mass onto a safe and flat surface.
"Finally!" A nearby mirror catches your eye, so you decide to take one last look at yourself before you begin yet another transformation.
You glare at yourself as you take one last look over your human features and your excited eyes peer back at you, quickly glowing brighter with excitement.
Once you're satisfied you take the short trip back to your costume. Your excitement almost extending the short space back to where you had laid your new outfit.
"Just one foot after the other" you sigh nervously to yourself while stepping into the costume. Your body tingles as the costume's soft fur caresses your body. You can feel its tightness around you as it molds to your body.
"It's just like a big warm hug." you think to yourself, while finalizing the transformation with a swift zip of the costume.
You return to the mirror, blinking your eyes in anticipation; clearing your vision from any stray furs from the costume.
"What?" You look over yourself quickly, "Arms… legs… tail?.. No?" You feel a tinge of disappointment; a sudden drop in your stomach. "Fucking bunk-"
The drop becomes a shiver, a rustle, a whole body quake. You look down at yourself, shocked by the realization that, the floor, the sink, even your own feet are growing farther away from you! "Well this is a different experience!" You exclaim to yourself, half fearfully, and half with childlike excitement. You can begin to feel the fur shifting around, almost as if the follicles were cozily nestling themselves securely into your skin. Your excitement begins to truly show; wiggling the length of your body, now becoming almost too large to be contained in your limited space. You begin knocking over lights and chairs as your muscles swell up to two-three times their previous size.
Your weighted body drops to all fours to compensate for the increase in mass and weight. Your wiggling now becoming too ecstatic to contain.
"My tail" you think to yourself, as your bodily sways slowly translate into a vigorous wagging, still disorganizing the room. You stagger, your vision going blurry until you black out, as your hyperventilation carries you off into full REM.
---
Written by Driftingdragon on 30 September 2019
Pasture
---
You blink your their eyes awake sun filtering through the clouds. You dream of your home, light filtering through, curtains the smell of breakfast being prepared. Your eyes suddenly open wide as you sit bolt upright. Bright green grass sprawling over acres of land. Creatures can be seen in the distance; fluffy, like the clouds.
You sit up and look yourself over, arms still tingling from the transformation, knees weak under the weight of his large new body. Your tail flailing around like an angry cat. You think to yourself.
"This pasture is so peaceful… so why am I so-" A sudden shadow engulfed him from behind.
"Hullo!"
Above him stands a muscular 6'2 ram, thick horns curling into his soft fluffy fur. An interesting contrast.
"Hoo's it gaun! 'Avent seen ye round ere"
"Uhhh" You say, kind of taken aback by his sheer size. "Job?!" You blurt out, anxiety growing the rocks in your stomach.
"Um" The Ram looks you over, blushing slightly. "Ya might need some clothes first." You look over your new body, rising from the ground and towering over the ram.
"Oh!" you exclaim! "Well…"
A dim light fills the room you and the ram enter, they walk over to a cabinet to grab your new clothes.
"So I'm new here.." You say sheepishly. "And I'm just getting a feel for this place, so if you need any help around your, uhh pasture then it would be my pleasure!"
The ram remains silent as he places your new clothes in front of you. He looks you over one last time half suspiciously half curious as to where the hell you came from.
"How bout somethin to drink first?"
You nod excitedly, as you realize that the rock in your stomach was less from anxiety, and more from the expanded capacity of your newly emptier stomach.
The ram begins fixing you something to drink, the aroma filling your nostrils, you can identify every ingredient with astounding accuracy. You think to yourself all the different ways you can use your newfound abilities. You take in the atmosphere of the room. A rustic log cabin, pictures of the ram and a tiny sheep strewn across the walls, flowers from the pasture decorate tiny corners of the room, and a single flickering lamp fighting off the darkness in corners where the filtering light cannot reach. A chest sits in the far corner of the room, adorned with all tpes of gems and gold, "What's that about" you wonder. All at once you realize the kind of work you'll be doing for the week.
The ram places a steaming plate of haggis in front of you, smiling wide.
"Enjoy friend!"
---
Written by Driftingdragon on 01 October 2019
---
Working
---
---