Parent
Single Page View
Outline
---
There are 3 paths.
One appears to go to a jungle,
one appears to go to a cave,
one appears to go to a beach,
you could try and climb the tree,
there is a nearby shop you could go in,
or you could do something else.
So what's its going to be?
---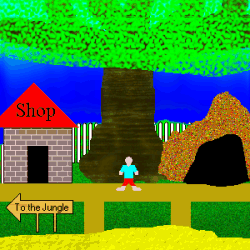 Illustrated by
Catprog
---
Written by catprog on 01 April 2003
---
There is a table with a sign saying
---
<strong>Free Sample:</strong>
Take one
---
On the table there is a fridge with a range of liquids. Also on the table are various magical trinkets including costumes. What would you like to take, or would you like to buy something?
---
Written by catprog on 10 April 2003
Into the shop
---
You decide to go into the shop to look around.
Inside it is very dusty and is crammed with shelves. There is lots of products that overflow from the shelves and are lying on the floor.
You notice the counter and the old man in a bathrobe behind it. "Welcome <<your name here>>" he says. "How do you know my name?" you ask the old man "Simple, I am a wizard" he responds "Have a look around too see if there is anything you would like to buy".
---
Written by catprog on 13 December 2005
---
You find a small statue
back room
look on the shelves
Bag on belt
Injections
Spaceship keyring
---
---