Parent
Story So Far
Outline
Going Stripey
---
You put the tigress costume on and the changes start immediately.
The costume sinks in and combines with your skin.
You then feel your feet change into paws and your tows changes into paw-digits.
Also, as this happenings your legs become slimmer, while still being strong and toned. Also your paws decreas in size, becoming more petite and ladylike.
Changes then start to occur else where on your body as your ears start to tingle. They move to the top of your head with points, curving slightly to give you better hearing all round. You move over to a mirror in the corner to watch your other facial changes.
You feel your whiskers grow out. You watch as your eye colour changes from a boring brown to a dazzling bright yellow, with a tint of blue. Your nose starts to change as it becomes pinker and starts to move further away from your eyes. With it come new smells.
Your head has nearly finished the changing as your muzzle grew out with your nose, leaving you with pouting lips that anyone would love to be smothered in.
Vibrant auburn hair grows at the back of your head, down to your hips.
Your hips have also started to change, increasing in size. Your buttocks also increase in size, giving you a more firm round figure overall.
Next, your arms start to change. Your palms taking a new form with black pads slowly on them. Your nails on both your fingers and toes (Now paw digits) slowly dissolve as new powerful long curvy claws take their place.
Your lower and upper arms then start to change, with fur sweeping across with strong dashes of orange and black everywhere. They become slender and more feminine as they take on their new role as tigress limbs. Your shoulders, slowly shrink into your every changing body as your neck also become more feminine with no trace of an Adams apple every being there. You hear a low purring sound which you realise is coming from you.
The changes then move down to the body, as your legs became surprisingly longer, making you at least 6' 5" now. They also become more toned, leaving you with legs that any woman would die for (apart from the fur).
Your front also changes as your beer belly, slowly subsided into a firm, white furred, stomach. It looks like you had been exercising for years to get it that toned. Also, your belly button disappeared as the white fur spreads across the whole of your front. From underneath your fur, 4 new bumps could be seen growing as your inner self slowly alters to a more feminine structure.
Your original nipples<span class="female">breasts</span> also took notice of this and start to inflate. They slowly increase in size until they reach at least a firm 40" C cup.
You then feel an awkward pain in the back of your buttocks. Thinking it was a sock or something that you had sat on you try and grab it. However, when your paws go to grab and remove whatever was causing the pain, you find that it is attached to your body.
It then surprises you more as it grows longer into a very sexy stripy tail. You found that you have full control of it and you sway it around as you look down to watch the remaining changes.
Finally, all that is left is your ever-shrinking manhood as it slowly finishes its disappearing act. You feel movement inside you, as the female reproductive organs finish forming.
---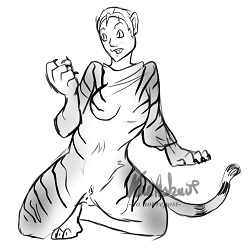 Illustrated by
KaeAskavi
---
Written by Tigress on 17 April 2007
---
Jungle
You are not alone.
A Bedroom?
The Savanna
A new Environment
A friend?
---
---