Parent
Story So Far
Outline
Griffin
---
You look over the costumes noticing the feminine aspects of all of them.
"Why did I have to choose that door" you think "if I had of chosen the other door I would have a male costume"
After most deliberation you decide to go for the griffin costume.
You begin putting on the costume.
You begin with the beak. It latches on and you feel your mouth flow into it.
Next you grab an eye mask and place it over your eyes. To your shock you go blind. After a brief moment of panic your eyesight comes back. You look through the glass , pass the glare of a river and to your surprise you see lots of fish.
You get a headband of feathers and put it on. Instantly the headband dissolves leaving a beautiful plum of feathers on your head.
You try everything else but the only things that move are the chest and groin piece.
You strap the chest piece on and the straps melt up to cover your back. You feel the wings shoot out and you start to hover.
You grab the arm pieces and put them on. You then feel a slight breeze through your arm fur.
You then realise that you now have to take that step. You wear the groin piece and you now have a tail. You also have become fully female.
You don the rest of the costume quickly, wanting to minimize the time spent in this form.
You take stock of the transformation. You feat are now full lioness paws. Your hand though have only lost 1 finger and been covered in fur.
You hear a cracking sound and look down to see the glass floor has shattered leaving nothing solid between you and the ground.
---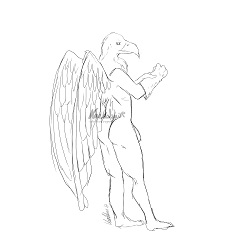 Illustrated by
KaeAskavi
---
Written by catprog on 21 February 2008
---
Your clan
A vision
---
---