Parent
Single Page View
Outline
---
The sign reads
---
"Welcome all new travellers.
To continue you must go through a series of doors.
After going through you will pick a costume. You will then become a half- human and half that creature.
After a week(100 mins a hour,20 hrs a day,10 days a week) has passed you may morph and get another costume. To start of with you will only be able to become 40% human to 60% human.
If you put on a costume you will then become that creature, be teleported to it's home town and have to wait a week before being able to morph.
After 50 costumes you may change into one of your other costumes and become 30% to 70% human. When changing costumes you must wait at least an hour before you can change costumes again.
100 different species/gender costumes allows you to gender-morph and become 20% to 80% human
200 different species costumes allows you to combine costumes and become 10% to 90% human
400 different species costumes allows you to return to your world with no more morphing
And 800 different species costumes makes a polymorph and allows you to morph outside of this world.
Also if you have a costume like a centaur then the human part will always be human and is counted towards the human percentage.
Any gender/species transformation magic of yours can only change your gender(if you have at least 100 costumes) and the animal part to a different animal.
When you change into a different costume (that you already have) you may teleport to that species home town but you will have the week penalty where you have no costume changes.
If you die while wearing a costume you will be reborn at the local inn (or appropriate location ). If you have more then 100 costumes you will lose the costume you had when you died and go to an appropriate place for your next costume.
If you fail to make it out in 100 years(100 weeks in a year) one of your possible forms will be chosen and you will be permanently stuck in that form(apart from magic) until you die. Also there will be no possibility of going back to your world.
Also, one final note: should you take a female form and become pregnant, you won't be able to change your gender until the child is born, though the other aspects of your form may change (the child will change to match.) That is all, and good luck!
---
You realise that you have to do what the sign said to do and go through the doors and grab a costume.
---
Alternatively you could use the key system to determine the room
---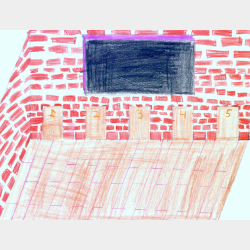 Illustrated by
catprog
---
Written by Catprog on 11 February 2004
---
You go through the door.
All of a sudden it slams shut and with no handle on this side it appears that you are stuck.
There are two more doors however and both of them have a sign on them saying
---
Costume room for
Element: Land
Type: Normal
Gender: ????
---
So which door do you want
---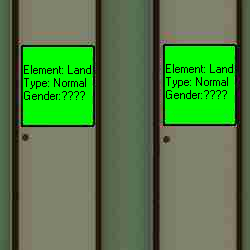 Illustrated by
catprog
---
Written by Catprog on 26 February 2004
---
You go through the door.
All of a sudden it slams shut and with no handle on this side it appears that you are stuck.<P/>There are five costumes in this room, all of them female, all of them are normal land creatures.
Snake
<li><span class="female">Wolf</span></li>
---
Written by Catprog on 26 February 2004
---
The moment you touch the costume, it comes alive an starts to flow over your body. First the costume flows behind, and you feel another body form. It starts with a large tail with a white stripe flowing down the middle, and along the lower body. You also feel it sliding up your normal back. There's a moment of panic, a fear of what may happen, but as the change takes you, it subsides, a merging of fact and the unknown.
You watch the costume move up to the chest and with amusement you watch as they balloon out and you soon have 6 decent sized bumps. I'm turning into a girl?
You watch as the fur flows out from the white turning black. White and black? Skunk? Your turning into a skunk? But why so large breasts, and so many? You look back over and it also appears you are turning into a centaur like creature.
Their is a feeling of coldness and you look down and watch as your manhood melts away, changing into your new womenhood.
You sit down, feeling dazed, a bit unused to your new limbs. Reaching down for your front feet you feel them change and turning into paws. Soon you stand up as a new female skunk taur.
---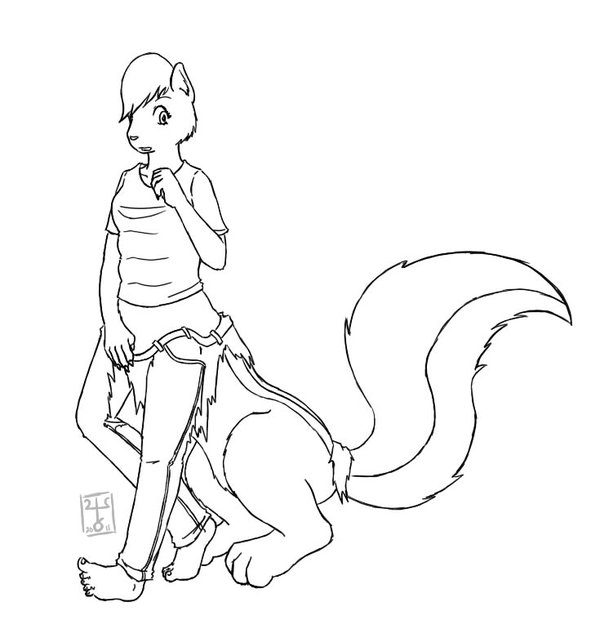 Illustrated by
lemonsky
---
Written by Catprog & Kendareru on 10 February 2011
---
As you look around you notice your clothes are also changing. Soon you are covered in frills and have a crown on your head.
New knowledge enters your mind about your new royal family and how you are next in line for the throne.
As you try to adjust you find yourself in the middle of a forest, with the sun setting and a wolf howling.
---
Written by catprog on 03 August 2018
Forest
---
The clothes you wore clung tight to your body as you watched your front legs padding forward across the cold earth. Hard white claws scratched up the dry soil as your weight shifted between your new quadrupedal gait. You stepped lightly, as to not muddy your dainty black paws, though you couldn't help but ponder as to why you were doing this.
"Wait a minute, what's with all this prissy pink bullcrap?" A tiara atop your head glistened in the morning light, its bright pink and blue flecks of light shone exquisitely with every meandering pace.
In the distance [hows a skunks sight?] What seemed like the end of the road. A small patch of trees and grass sprouting from the center of your vision. Upon close inspection, you come to realize that the path merely split in two a bit farther down the way; two thin winding paths led deep into the forested terrain, one sloping upward, and another one trailing deep down into the dark greenery, its viridescent hues grew deeper in value as your eyes tried to adjust to the dim light.
Which path shall you choose?
---
Written by Driftingdragon on 04 March 2020
---
Walk up road -meet family
---
---