Parent
Story So Far
Outline
Making a passage out of the cave
---
You crane your long, neck back, admiring the scales of your flank and the heavier, thicker, darker ones that gave way to lighter spines that run along your back in twin ridges. You rub your head with a paw, feeling the fine frills along the sides of your neck... And the tail! A tail! It swings back and forth, a powerful weight, as naturally as if you'd been born to it.
You decide that you need to get out of the cave. First you scrape at the rock with your new claws. It doesn't seem to make a difference. Suddenly you remember that you can breathe fire, as you're now a dragon. You breath fire and make a large passage out of the cave.
---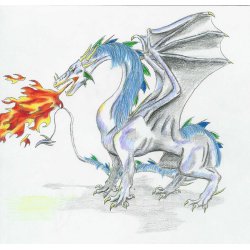 Illustrated by
DrMario64
---
Written by Cat on 03 April 2003
---

Trapped

Adventure Start!
---
---