Parent
Single Page View
Outline
---
The sign reads
---
"Welcome all new travellers.
To continue you must go through a series of doors.
After going through you will pick a costume. You will then become a half- human and half that creature.
After a week(100 mins a hour,20 hrs a day,10 days a week) has passed you may morph and get another costume. To start of with you will only be able to become 40% human to 60% human.
If you put on a costume you will then become that creature, be teleported to it's home town and have to wait a week before being able to morph.
After 50 costumes you may change into one of your other costumes and become 30% to 70% human. When changing costumes you must wait at least an hour before you can change costumes again.
100 different species/gender costumes allows you to gender-morph and become 20% to 80% human
200 different species costumes allows you to combine costumes and become 10% to 90% human
400 different species costumes allows you to return to your world with no more morphing
And 800 different species costumes makes a polymorph and allows you to morph outside of this world.
Also if you have a costume like a centaur then the human part will always be human and is counted towards the human percentage.
Any gender/species transformation magic of yours can only change your gender(if you have at least 100 costumes) and the animal part to a different animal.
When you change into a different costume (that you already have) you may teleport to that species home town but you will have the week penalty where you have no costume changes.
If you die while wearing a costume you will be reborn at the local inn (or appropriate location ). If you have more then 100 costumes you will lose the costume you had when you died and go to an appropriate place for your next costume.
If you fail to make it out in 100 years(100 weeks in a year) one of your possible forms will be chosen and you will be permanently stuck in that form(apart from magic) until you die. Also there will be no possibility of going back to your world.
Also, one final note: should you take a female form and become pregnant, you won't be able to change your gender until the child is born, though the other aspects of your form may change (the child will change to match.) That is all, and good luck!
---
You realise that you have to do what the sign said to do and go through the doors and grab a costume.
---
Alternatively you could use the key system to determine the room
---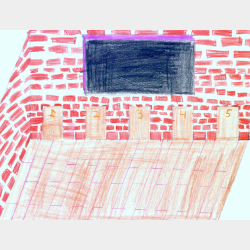 Illustrated by
catprog
---
Written by Catprog on 11 February 2004
---
You go through the door.
All of a sudden it slams shut and with no handle on this side it appears that you are stuck.
There are two more doors however and both of them have a sign on them saying
---
Costume room for
Element: Land
Type: Normal
Gender: ????
---
So which door do you want
---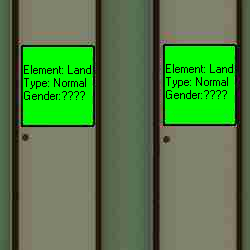 Illustrated by
catprog
---
Written by Catprog on 26 February 2004
---
You go through the door.
All of a sudden it slams shut and with no handle on this side it appears that you are stuck.<P/>There are five costumes in this room, all of them female, all of them are normal land creatures.
Snake
<li><span class="female">Wolf</span></li>
---
Written by Catprog on 26 February 2004
---
A small circle of grass serves as the floor in this cylindrical room with white walls and light pouring down from the ceiling. What is this place? What is its purpose? Alas, your human desire to know goes unfulfilled.
Costumes sit before you in the silky emerald grass: A gray, brown and red pair of ears, a scaly skin, and a distinctly-patterned pull-over. There is no escaping this awesome labyrinth, no wishing your way out: the only option is to obey the mysterious signs.
For whatever reason, you opt for the giraffe pullover.
It's a little chilly in here, anyway...
BY THE NINE DIVINES! When you don the comfortable sweater, it affixes itself to your very flesh! Fabric becomes fur that swooshes over your body like a vengeful hurricane!
"The hell?" you cry as your legs snap, crackle and afterwards pop, your feet exploding into fiery bits, leaving behind cloven hooves! Your hands explode similarly, leaving behind three-fingered, ninja-turtle-esque appendages! You find yourself bumping sensitive horn nubs against the ceiling as your neck feels like it's put into a chiropractic machine! The final changes involve your stretching face and certain processes around your waist region!
With a puff, the walls collapse in the room, leaving you sitting in a circle of grass in the middle of a dry and dusty tan African savanna, as an anthropomorphic, female giraffe.
Suddenly, it ain't such a small world after all.
---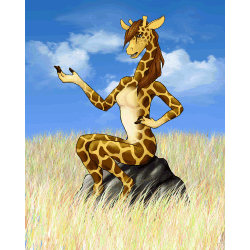 Illustrated by
kumori-fennikusu
---
Written by Mr.Peaches on 11 January 2007
Maybe TOO raffe
---
Even though you're sitting down, your long neck puts your head pretty high up, and you start looking around.
In one direction there is a watering hole with what looks like a pride of lions flocking around it - or maybe they are priding?
The other way is a grove of tall trees you somehow instinctively recognize as acacias. Tasty leaves on those, you seem to remember an old voice telling you. Yeah right. Leaves. Bleah.
Between the two points and pretty close to you is the first sign of civilization (unless the lions are civilized). A narrow dirt road running from horizon to horizon. Didn't the rule sign say something about an inn? Maybe it lies somewhere on that road.
As you sit pondering your options your revere is shattered by a drawn out growl from below. You look down, fearing predators, but it's only your stomach. Soon after signals from your gastric region reach your command tower of a brain to inform you that you are hungry. Famished, even. Apparently this shapechanging business is extremely energy consuming, and you're in bad need of a recharge. Even acacia leaves is beginning to sound like a delicacy. Or maybe you could follow the road (either direction) and see if you can find a place that sells human food. Or gives it away, seeing as you don't appear to have any money.
Maybe it's the hunger, maybe it's the lack of oxygen in a brain so far from your lungs, but you even consider going over to the watering hole to have a word with the lions. Heck, the worst they can do is kill you, and then you will just be reborn, hopefully in a better place.
As you start getting to your feet, it occurs to you that you should have another look around, maybe you can spot something else if you're taller...
---
Written by Won-Tolla on 31 May 2007
---
Go see the lions
---
---