Parent
Story So Far
Outline
Lugia
---
With a sharp pain, you feel your tail bone stretching out growing the lugia spikes as it does so.
You then here a rip and you see that your tail has gone through your trousers relieving you of the pain.
Suddenly the changes start below your waist. When they are finished you see that your feet are completely that of a lugia. Your legs still look human apart from the feathers and the fact that they have burst your trousers.
The next thing to happen are the spikes growing on your back. This of course forces you to take off your shirt.
Feathers then start popping out of your arms. You feel the bones re-arrange them self into wings.
You wait a while but no more changes occur.
---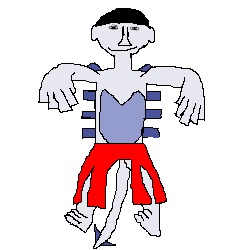 Illustrated by
catprog
---
Written by on 30 July 2004
---

Later...
---
---