Parent
Story So Far
Outline
You walk towards the cave
---
You go into the cave.
All of a sudden you feel a weight on your behind. You turn and manage to get a glimpse of your new tail. As you do so it hits the side of the cave and causes a cave-in. There is still light coming through however.
You watch as scales slide up your body and tail.
You feel wings come out of your back and with a sense of amazement you try them out by hovering.
You realise that you are a dragon.
---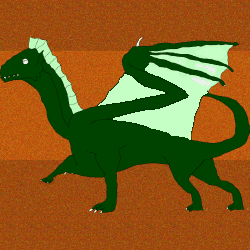 Illustrated by
catprog
---
Written by catprog on 01 April 2003
---
---
---