Parent
Single Page View
Outline
---
There are 3 paths.
One appears to go to a jungle,
one appears to go to a cave,
one appears to go to a beach,
you could try and climb the tree,
there is a nearby shop you could go in,
or you could do something else.
So what's its going to be?
---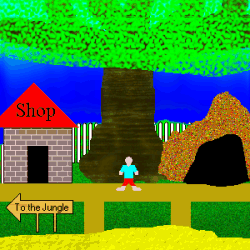 Illustrated by
Catprog
---
Written by catprog on 01 April 2003
---
There is a table with a sign saying
---
<strong>Free Sample:</strong>
Take one
---
On the table there is a fridge with a range of liquids. Also on the table are various magical trinkets including costumes. What would you like to take, or would you like to buy something?
---
Written by catprog on 10 April 2003
---
You decide to get something else. But what?
---
Written by catprog on 13 December 2005
---
You take a lamp. Now what are you going to do with it?
---
Written by catprog on 05 March 2004
---
Just then, a huge puff of green smoke appears.
The smoke forms the shape of a humanoid, then finally materializes into a turquoise-skinned man who appears to be about 25 years old. You quiver with fear, staring at him (after all, you're not used to seeing turquoise-skinned men appear out of lamps).
"Who has rubbed the lamp of the Genie of Transformation?", the man asks in a light, yet stern voice.
"I-I did", you answer softly.
He steps closer to you and bows. "Thank You, Master, Thank You!", he says as he kneels to you.
"Master?"
He stands. "Yes", he says. "You have released me from the Lamp, and now you may have three wishes.
The wishes carry certain limitations, however..."
"Yes, like what?", you ask again, almost bursting with excitement (having your own genie and all).
"First, there are only three wishes, no more and no less, and this may not be changed by any wishes made. Second, all wishes made by the master should be precisely worded. If the wish is too vague, then I shall choose the remaining factors of the wish. And third, all wishes must be related to the change of the master, or of someone else that the master chooses. In other words, all wishes must be transformative."
Well what are you going to wish for?
---
Written by on 11 March 2004
Choices Choices
---
The genie's words sink into you as you ponder them. You've seen your fair share of movies and TV shows with genies involved - this one reminds you of the Genie from Aladdin, but, you also know the traditional genies are… not exactly the nicest of beings. This one was kind enough to inform you that there are rules involved, at least, yet even so, you are hesitant.
"When you say you'll 'choose the remaining factors' of a wish, what does that mean, exactly?" you inquire.
The genie folds his arms. "It is as I say it, Master."
"Would you be more… specific?" You frown, and consider the proper way to phrase it. "If I ask for a certain, I guess, transformative power, but I don't word it tightly enough, then that means you can tweak it to however you please?"
The genie chortles. "In essence."
There is a long pause. Your lips purse, and your first wish is to get a better sense of what this whole ordeal entails. The genie, as if sensing this, stares at you for a long moment - perhaps daring or desiring you to speak the words for him to grant. Yet you don't, and eventually, the genie offers a small, softer smile.
"I must admit, Master, you have surprised me," the genie said. "I have known many fellow djinn before - and have experienced numerous masters prior to you over the centuries. I've seen men and women alike who rushed into their wishes without stopping to think about the ramifications. You are likely pondering whether or not I am a malicious djinn, aren't you? A trickster that you've read or heard about in your media for ages?"
You shift somewhat. "I mean, honestly, kind of. There are movies and kids shows with good genies, but, the myths always tend to…"
"Point toward the opposite." The genie's smile grows. "Out of necessity, and to ensure you grant your wishes, I will throw you a proverbial bone: I am not what you consider 'good,' Master, but nor am I 'evil.' The whims of a djinn are his or her own, yet to make it simpler for you to understand: most of the time, we base our own actions off the character of the Master making the wishes."
You blink a few times. "I see. So if they're a jerk, you'll be more inclined to twist their wishes?"
"Mm." The genie dithers. "Not always. It is not so much the external, though yes, that does play a factor - rather, we can see beneath. We read the heart of the Master, and we understand why it is they make the wish they want. That is not to say every djinn will be tempted to be kinder to those who make wishes for morally sound or logical reasons, but," he shrugged, "it isn't unheard of."
"You're obviously a very wise and honest genie," you say, and you don't mean it to be overly complimentary - it's just how you think. "I imagine if I were rude or disrespectful, it would be an insult to you."
The genie's eyes darken. "A grave one, yes." His tone does not betray the fact he means these words - dangerously so. It is enough to make your throat go dry, yet, the genie's features soften after a moment. "But you are… decent, Master." He smiles again, and he seems to mean it in a general sense rather than a fake or forced smile. "For that, I am appreciative."
You are still hesitant. But, before you consider your first wish, you think of something else from your knowledge of genies and their usual predicaments.
"Do you desire to be set free?" you ask. The old Disney movie comes to mind.
The genie is surprised at this. "I…" He frowns, as if you've completely thrown him for a loop he wasn't expecting. "That isn't something I've ever considered. I don't know that freedom for a djinn would mean the same thing you may believe it to. But…" He trails off, and sighs. "If you are hoping to free me in an attempt to earn my favor, Master, you needn't. Please speak your first wish."
You relent to this since you don't want to waste the genie's time given the fact, well, he's a genie. And so, you start to think for real on what to desire.
It has to be transformative in some way, but, you don't know what way the genie means it. You also don't want to test this being's patience, however, so, you think of the first thing that comes to mind. But! You also ensure you word it the right way, thus you take a moment to phrase it in your mind first.
When you're ready, you speak it: "I wish to be able to transform painlessly into any animal I want without losing my humanity or self-control, and without having to worry about being trapped in that form forever."
The genie eyes you for a long few heartbeats. You are hoping that you've done a good enough job being specific about the wish, without any nasty loopholes the genie can exploit. You can't be sure if this genie is going to be the petty or mean-spirited sort, after all - he seems to be nice overall, but, he's a genie, and you know from speaking to him that you could seal your fate if you say the wrong thing…
"A curious wording, Master," the genie remarks after a moment. He is thoughtful, stroking his chin as he mulls your words over. He smiles then. "Very well, this wish shall be granted. But!" He again eyes you with an unreadable expression. "You have left it open enough for me to tweak it to my whims."
Your heart nearly skips a beat. 'Oh no.'
---
Written by Hollowpages on 02 April 2020
---
The Wish's Rules
---
---