Parent
Single Page View
Outline
---
The sign reads
---
"Welcome all new travellers.
To continue you must go through a series of doors.
After going through you will pick a costume. You will then become a half- human and half that creature.
After a week(100 mins a hour,20 hrs a day,10 days a week) has passed you may morph and get another costume. To start of with you will only be able to become 40% human to 60% human.
If you put on a costume you will then become that creature, be teleported to it's home town and have to wait a week before being able to morph.
After 50 costumes you may change into one of your other costumes and become 30% to 70% human. When changing costumes you must wait at least an hour before you can change costumes again.
100 different species/gender costumes allows you to gender-morph and become 20% to 80% human
200 different species costumes allows you to combine costumes and become 10% to 90% human
400 different species costumes allows you to return to your world with no more morphing
And 800 different species costumes makes a polymorph and allows you to morph outside of this world.
Also if you have a costume like a centaur then the human part will always be human and is counted towards the human percentage.
Any gender/species transformation magic of yours can only change your gender(if you have at least 100 costumes) and the animal part to a different animal.
When you change into a different costume (that you already have) you may teleport to that species home town but you will have the week penalty where you have no costume changes.
If you die while wearing a costume you will be reborn at the local inn (or appropriate location ). If you have more then 100 costumes you will lose the costume you had when you died and go to an appropriate place for your next costume.
If you fail to make it out in 100 years(100 weeks in a year) one of your possible forms will be chosen and you will be permanently stuck in that form(apart from magic) until you die. Also there will be no possibility of going back to your world.
Also, one final note: should you take a female form and become pregnant, you won't be able to change your gender until the child is born, though the other aspects of your form may change (the child will change to match.) That is all, and good luck!
---
You realise that you have to do what the sign said to do and go through the doors and grab a costume.
---
Alternatively you could use the key system to determine the room
---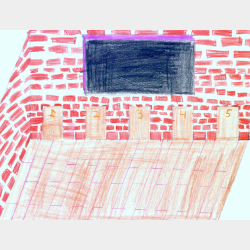 Illustrated by
catprog
---
Written by Catprog on 11 February 2004
---
You go through the door.
All of a sudden it slams shut and with no handle on this side it appears that you are stuck.
There are two more doors however and both of them have a sign on them saying
---
Costume room for
Element: Land
Type: Normal
Gender: ????
---
So which door do you want
---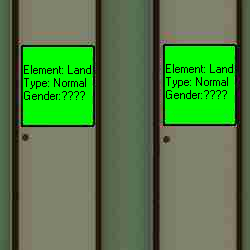 Illustrated by
catprog
---
Written by Catprog on 26 February 2004
---
You go through the door.
All of a sudden it slams shut and with no handle on this side it appears that you are stuck.<P/>There are five costumes in this room, all of them female, all of them are normal land creatures.
Snake
<li><span class="female">Wolf</span></li>
---
Written by Catprog on 26 February 2004
---
You find a costume of what looks like an anthro-wolf, as well as instructions. Follow them, you strip off your clothes and find the opening in the front of the costume. You put your legs into the costume, and pull it up over the rest of your body, zipping it up.
The last thing left is the head, which you flip over your own.
Suddenly, you feel odd, and noticed the zip has disappeared. You begin to wonder this as you feet change ,painfully, now fitting the odd wolfen stance of the costume. The changes progress, upwards, as you feel the costume meld with you.
You suddenly remember this was the female room, as you notice a void between your legs and your waist painfully shrinks upwards, pushing your his and ass out.
You suddenly notice a weight on your chest as well, as two (very) large breasts force their way out. As you feel them with your changed hands, you face changes to, pushing out and melding with the wolfen head of the costume.
The changes subside, leaving you as a rather sexy looking anthro-wolf.
---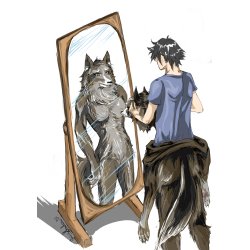 Illustrated by
shiningshadow
---
Written by Vanghar on 11 January 2007
Where are you?
---
Slightly backing away as You began to look over your new form in the mirror that while blinking a couple of times, you still didn't believe what just happened to you.how could this have happened as you thought about the sign was some kind of sick joke, but now... all of this was far to real that it couldn't be ignored. It wasn't long though for a low hissing sound begins to echo within the room, thanks to your enhanced hearing as the smell also told you that it was some kind of gas.
Desperately struggling to cover your face as the gas was entering the room that with you not use to your sexy looking wolf body, your world begins to blur as you eventually were succumbing to the dizziness of the sleeping gas. Before your world turns black that you collapsed onto the ground as you fell, losing consciousness for a deep sleep. You weren't sure how long you were out, but when you awoke that your field of vision was a bit hazy as you started to look around.
Sitting up that you let out a slight chuckle from your bizarre dream, but shortly froze when a paw was swatting away the cold sweat from your face as it enters into view. Your eyes quickly adjusted from a small amount of light as you took this opportunity to look around you. Letting out a feminine scream as you realize what happened to you wasn't a dream at all that you wish it was a nightmare, but it was true for you're now a sexy looking anthro wolf girl.
You later realize you are in a particularly small section somewhere that you appear to be some place else. the only question is where are you?
---
Written by Jacob on 26 June 2020
---
The end (for now)
---
---