Parent
Story So Far
Outline
Unicorn (HYBRID)
---
The changes begin.
When there finished you notice that you're half-unicorn and half-human. Meaning that your are a human-sized biped unicorn of approximately humanoid proportions.
While the fur has replaced your clothing your face seems to be the same. Well apart from the horn sticking out from your forehead. You also notice that your feet are now hooves but your hands haven't changed that much. You have only lost 2 fingers on each hand. You have also grown a tail.
Suddenly the changes stop.
---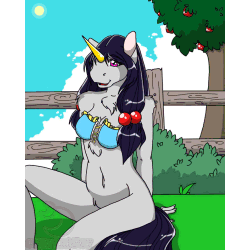 Illustrated by
midnightfury
---
Written by Bro on 14 October 2003
---

But...

changing again
---
---