Parent
Single Page View
Outline
---
There are 3 paths.
One appears to go to a jungle,
one appears to go to a cave,
one appears to go to a beach,
you could try and climb the tree,
there is a nearby shop you could go in,
or you could do something else.
So what's its going to be?
---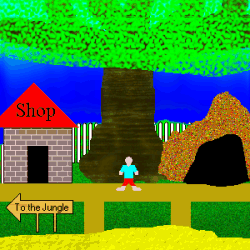 Illustrated by
Catprog
---
Written by catprog on 01 April 2003
---
There is a table with a sign saying
---
<strong>Free Sample:</strong>
Take one
---
On the table there is a fridge with a range of liquids. Also on the table are various magical trinkets including costumes. What would you like to take, or would you like to buy something?
---
Written by catprog on 10 April 2003
---
You decide to get something else. But what?
---
Written by catprog on 13 December 2005
---
You find a pair of vr googles.
You put them on and you find yourself in a game, but which one?
---
Written by on 06 August 2005
---
For a moment, you sit staring at the computer screen. The game loaded so quickly, that now you're waiting in of an opening screen. The pixels quickly formulate themselves into the backdrop of an open field on all sides of you. The faintest motion of wind rustling the thick landscape of grasses ripples across your vision, but even as the distant landscape formats with the loading page, nothing but the field is there. You shift your head, turning your gaze within the virtual reality of the game to check to your sides, but find only more of the same rippling landscape there as well. The same, golden shade of grass sprouted up from the Earth on all four sides of your body.
Eyebrows knitting together, you try to figure out what is supposed to be happening. "There's nothing here" you mutter, considering trying to remove the goggles you'd placed on until you notice a selection screen. "Choose your character" flashed as fading white letters in the distant backdrop of blue sky. You read it, though you're not sure what character to select or even how to do that.
You eyes scanned over everything again, noticing that a sign had been added to the game off to the left, font sketched into its surface: "Random."
---
Written by Picklessauce69 on 08 December 2015
Custom
---
You still can't believe the quality of this virtual reality game, from how real the world looks to the sounds of rippling grass around yourself, gently swaying strands that rustles in a digital breeze.
You look back to the small sign in front of you, a small frown on your face at the sight of the word 'Random'. In your experience, anything that was up to chance could only end poorly, and you begin to look for another sign.
Much to your surprise, before you can fully turn, the sign before you flickers, the letters twisting and morphing into a different word entirely: 'Custom'. You smile at that, a faint chuckle escaping your throat. "Now this is what I'm talking about."
You head to the sign and tap it, marveling at how the game was somehow able to give you a sense of tactile immersion. As you press the sign, it glows gently; and several new options pop up, far more than you'd expected. There's the expected race and gender menus, but also a series of odd menus, like 'stance' and 'species'.
The only question is... Which button do you press next?
---
Written by SketchySeraph on 09 March 2016
---
---
---