Parent
Single Page View
Outline
---
The sign reads
---
"Welcome all new travellers.
To continue you must go through a series of doors.
After going through you will pick a costume. You will then become a half- human and half that creature.
After a week(100 mins a hour,20 hrs a day,10 days a week) has passed you may morph and get another costume. To start of with you will only be able to become 40% human to 60% human.
If you put on a costume you will then become that creature, be teleported to it's home town and have to wait a week before being able to morph.
After 50 costumes you may change into one of your other costumes and become 30% to 70% human. When changing costumes you must wait at least an hour before you can change costumes again.
100 different species/gender costumes allows you to gender-morph and become 20% to 80% human
200 different species costumes allows you to combine costumes and become 10% to 90% human
400 different species costumes allows you to return to your world with no more morphing
And 800 different species costumes makes a polymorph and allows you to morph outside of this world.
Also if you have a costume like a centaur then the human part will always be human and is counted towards the human percentage.
Any gender/species transformation magic of yours can only change your gender(if you have at least 100 costumes) and the animal part to a different animal.
When you change into a different costume (that you already have) you may teleport to that species home town but you will have the week penalty where you have no costume changes.
If you die while wearing a costume you will be reborn at the local inn (or appropriate location ). If you have more then 100 costumes you will lose the costume you had when you died and go to an appropriate place for your next costume.
If you fail to make it out in 100 years(100 weeks in a year) one of your possible forms will be chosen and you will be permanently stuck in that form(apart from magic) until you die. Also there will be no possibility of going back to your world.
Also, one final note: should you take a female form and become pregnant, you won't be able to change your gender until the child is born, though the other aspects of your form may change (the child will change to match.) That is all, and good luck!
---
You realise that you have to do what the sign said to do and go through the doors and grab a costume.
---
Alternatively you could use the key system to determine the room
---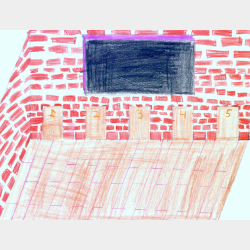 Illustrated by
catprog
---
Written by Catprog on 11 February 2004
---
You go through the door.
All of a sudden it slams shut and with no handle on this side it appears that you are stuck.
There are two more doors however and both of them have a sign on them saying
---
Costume room for
Element: Land
Type: Normal
Gender: ????
---
So which door do you want
---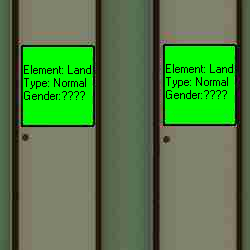 Illustrated by
catprog
---
Written by Catprog on 26 February 2004
---
You go through the door.
All of a sudden it slams shut and with no handle on this side it appears that you are stuck.<P/>There are five costumes in this room, all of them female, all of them are normal land creatures.
Snake
<li><span class="female">Wolf</span></li>
---
Written by Catprog on 26 February 2004
---
The moment you touch the costume, it comes alive an starts to flow over your body. First the costume flows behind, and you feel another body form. It starts with a large tail with a white stripe flowing down the middle, and along the lower body. You also feel it sliding up your normal back. There's a moment of panic, a fear of what may happen, but as the change takes you, it subsides, a merging of fact and the unknown.
You watch the costume move up to the chest and with amusement you watch as they balloon out and you soon have 6 decent sized bumps. I'm turning into a girl?
You watch as the fur flows out from the white turning black. White and black? Skunk? Your turning into a skunk? But why so large breasts, and so many? You look back over and it also appears you are turning into a centaur like creature.
Their is a feeling of coldness and you look down and watch as your manhood melts away, changing into your new womenhood.
You sit down, feeling dazed, a bit unused to your new limbs. Reaching down for your front feet you feel them change and turning into paws. Soon you stand up as a new female skunk taur.
---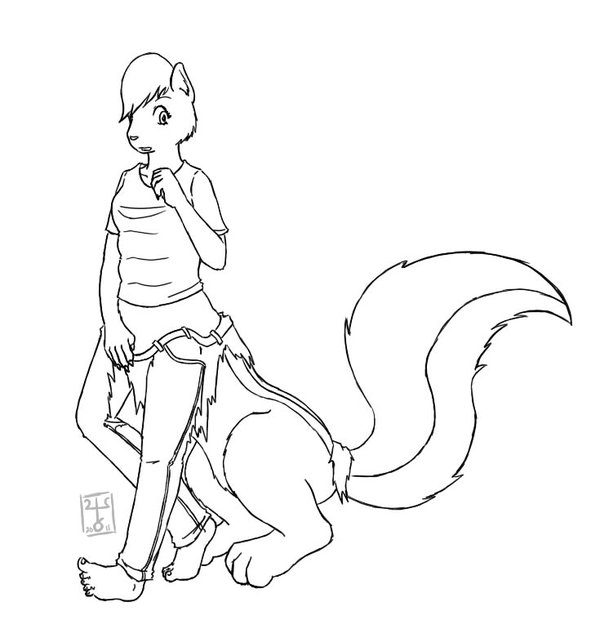 Illustrated by
lemonsky
---
Written by Catprog & Kendareru on 10 February 2011
---
Looking around, you find yourself in a living room and a quite feminine one too. their is a letter on a table. Reading it you find you have been "kidnapped" and you have to wear costumes to get back home.
Of course the runner of "this game" has given you a home to live in while you are playing. You think to yourself, How convenient, though I never asked for the situation. Of course all the clothes provided are for your female body and not male.
Looking over what you were provided, you pick the least feminine clothes you find to wear and find a necklace to hang the key to your house on. As you let it hang down you giggle as it tickles between your cleavage. Now to explore and try and start on the way home.
---
Written by Catprog & Kendareru on 11 February 2011
---
You walk outside, taking a quick glance at your home, trying to remember the details so you can find it again when you return.
Just then a male walks by your gate, and compared to you quite a large and strong one too. "So your the newcomer right?" You nod, feeling a bit unnerved that it seems so easy to tell.
"Yeah, this house has been vacant for a while, and I saw you and thought 'another person sucked into this world'. First costume?"
"Is it really that obvious," you ask. He smiles, giving a laugh. "Not usually, just safer to ask and offer advice than to assume you know what you're doing."
"One rule here; we don't tell what our past lives were, or even names, Katie."
---
Written by Catprog & Kendareru on 12 February 2011
---
"Katie?" you ask, and he points to a name on your house which says Katie, of course.
"We have had a few people who have been depressed about their past life. We find is is best with a fresh start."
"Anyway I am here to show you around town." He looks you over. "And your probably wearing to much for day to day living. we're on the coast so most females wear swimsuits or even nothing at all. We believe in a more natural state of being than you're probably used to."
"So if you want you can go back in and change." It sounds more like a command than a suggestion, and you decide it's better to go along, in case he tries to enforce it too strongly himself.
---
Written by Catprog & Kendareru on 13 February 2011
---
You look in your closet and your only bathing suit make you look even more feminine then without but you need to wear something, right? You change your clothes, feeling a bit ill-at-ease, hoping he doesn't come in while you're changing.
Luckily for you he does not. of course when you go out he whistles "You are hot." You shoot him a look that says 'Try it, and I'll make sure you can't ever again', and he laughs it off casually. You feel your threatening glance die of, realizing he could overpower you easily.
"To the beach" he says and he starts walking off without checking to see if your following, and you have to run to catch up to him.
---
Written by Catprog & Kendareru on 14 February 2011
---
You follow the path, trying hard to memorize it, so you can make a break for it if need be.
When you arrive at the beach their are many skunk taurs, both male and female. "This is where we spend most of our time. some of us are farmers but most of us work around the beach and ocean." You look down, but can't quite tell what kind of 'work' is being done.
He grins "Can you scuba dive?" You look at him. "Scuba... Kind of. It's been a while. Why?"
"One of the best jobs involves scuba fishing." You nod. Living so close to the ocean, it makes sense that they would have a seafood diet.
---
Written by Catprog & Kendareru on 15 February 2011
---
"Some of us can actually fish without the scuba." You nod, only half listening. You observe the rest of the populace on the beach, watching them interact with each other, seeing how open they are.
Some of them are gathering firewood and you ask about it. "What is going on?". He smiles "They are gathering wood for the cooking fire tonight." You look at him and say, "So, everyone eats together?" A moment later you decide it was a stupid question to ask, but can't take it back.
He grins "Most of us eat most dinners together but some of us eat some dinners in our homes. We don't expect newcommers to help their first day but the next day they do so." You nod. "I may as well get started today, so I know what I'm doing tomorrow. Lead the way."
He smiles and leads you down. Most of the others look up as you pass and wave, making you feel obligated to wave back.
---
Written by Catprog & Kendareru on 16 February 2011
Gathering Firewood
---
"So what kind of work do you want to do?" You look at your guide and say, "I don't know. I guess I'll help with the wood. Can't be too hard. Where do we take it?"
He smiles and points to the pile of wood that is being gathered. You groan, realizing most of what you're asking is obvious if you'd take the time to look around and actually see what's around you. He laughs, "Yep, you're definitely new. The older ones tend to just start as soon as they can, and know what to do."
You spend the afternoon gathering wood and as the sun sets they light the bonfire. You sit, slightly apart from the main group, still slightly uncomfortable, watching the food cooking, feeling a bit accomplished for having done something useful for the group.
Your guide then comes up "How did your first day go?" You smile, feeling a bit more used to him being around. "It went pretty well, though I'm a little sore. Where did you disappear to?"
'"I am a diver / newbie guide, so I was out fishing"
---
Written by Catprog & Kendareru on 17 February 2011
---
The end (for now)
---
---