Parent
Story So Far
Outline
Kangaroo
---
You notice a furry pouch and stick it to your body.
Suddenly the fur expands and quickly covers your body replacing your clothes.
You look down remembering this was the female room and thus down there has changed.
You feel your new tail stretch out as your legs reshape into the powerful legs of your new form.
You feel your ears go pointed.
You feel a change up in the chest area as it grows to a decent size.
You feel your inside turn to liquid and reshape and you are done.
---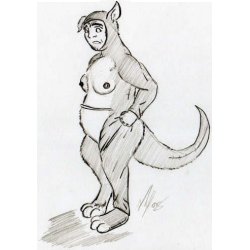 Illustrated by
dragon-storm
---
Written by catprog on 18 December 2007
---
The Dark Mists
Train Station
Hop, Skip, and a Jump
---
---